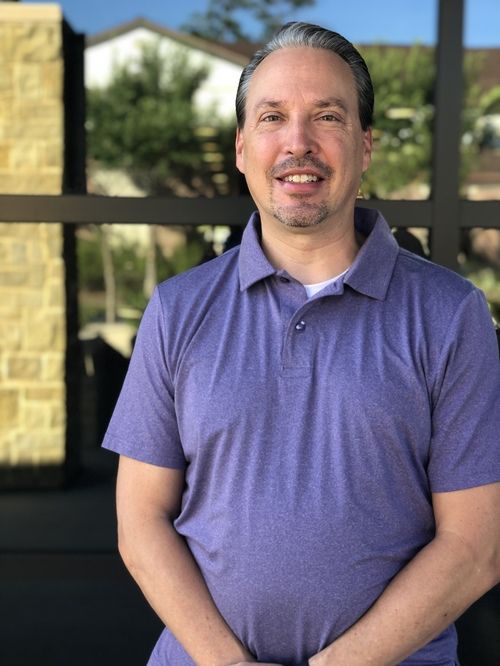 My wife Tamara and I joined the Faith family in the Spring of 2018. Our house flooded during Harvey and we were still in the process of completing the restoration of our home when we heard a summer session of re|engage was being offered. We immediately jumped in because, while our material world was being restored, our marriage had also taken a hit during this crisis. Demands of my work left the bulk of the reconstruction process to Tamara and our differing views of approaching this disaster created a rift between us. Re|engage provided a terrific structure for us to reconnect and restore our marriage, especially the chapter on Forgiveness. God blessed us with wise facilitators and we were able to have healing conversations that we weren't able to have previously.

After moving ourselves and our adult kids too many times in the last few years, my back was letting me know that it wasn't happy with how I treated it. The pain wouldn't let me stand for long periods of time and I frequently had to sit down during worship. In July 2018, we attended a Second Sunday prayer and worship service (which are our favorite services), and a godly young man prayed over me and my back and I haven't had that pain since – I'm able to stand for all the songs! So grateful for God's healing power through prayer!

COVID-19 has brought another "opportunity" into our lives. With not having two plus hours of daily commuting, I'm having more consistent quiet time in the Word than I've ever had. What I'm finding is that the closer I get to the Lord, the longer shadow I throw, ie the more I see how selfish I really am. I need the Lord every minute of every day. I'm not proud of how I've behaved in this pandemic. I'm easily irritated and have responded badly to minor issues that have come up. Tamara and I joke that the distance between our refrigerator and island has gotten much narrower in the last few months!

What I'm realizing is just because I'm spending more time in the Word doesn't equate to a transformed life. I'm an engineer and I like formulas. Spending time in the Word and practically applying the Word, letting Jesus take over my selfish thoughts and fleshly behavior is the way to transformation. I need to get out of my own way. The more I try to power through and "try to be better," the worse the outcome. God is revealing to me that a real connection with Him is the only way to bear good fruit. I am blessed to have an understanding and quick forgiving wife! I'm also grateful to be part of a community of re|engage leaders who continually show and share how to encourage one another daily.

While I'm a work in progress, God's love for all of us is not. God brought us to the right church at the exactly the right time! And for that I'm very thankful!